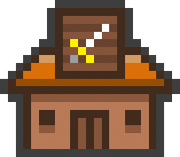 This type of shop sells weapons. Each time you discover a new weapon shop, an upgrade for each weapons in preceding shops is unlocked (up to a maximum level of 9). Each upgrade increases attack by 1.
The first weapon shop is located at 0.3 km and after that every 1.2 km.
By the 23.1 km Weapon Shop, all weapons will have been made available. Then, the weapon shops will start looping their wares.
List of Weapon Shops
Edit
See also
Edit
Ad blocker interference detected!
Wikia is a free-to-use site that makes money from advertising. We have a modified experience for viewers using ad blockers

Wikia is not accessible if you've made further modifications. Remove the custom ad blocker rule(s) and the page will load as expected.